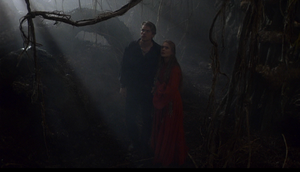 In the 1987 classic film
The Princess Bride
, Westley and Buttercup are forced to flee into the horrid Fire Swamp to escape the venomous Prince Humperdinck. Their means of deliverance was to trek
through that fearful place,
marked by flame spurts, lightning sand, and dreaded rodents of unusual size.
"We'll never survive," Buttercup laments.
"Nonsense," Westley replies. "You're only saying that because no one ever has."
Sometimes life feels like that.
But it doesn't have to remain that way.
God empowers us to
see those hard things differently,
...to fear not a dismal position,
but grasping an opportunity to rely on Him,
...to initiate not a walking away,
but walking
with
Him,
freely in the midst of it,
...to see not a God-forsaken place,
but trusting God far beyond my own strength
for what
only He can do,
...to realize that it is not a time to quit,
but allowing Him to deepen me
even through a fearful place.
LORD,
show me how to navigate
this tumultuous relationship,
this impossible work situation,
this Fire Swamp
with rodents of unusual size.
And to know
that I do not travel alone.
You are with me.
The difficulty of the task
reveals not Your absence,
but my need for You.
I lift up my eyes to the hills.
From where does my help come?
My help comes from the LORD,
who made heaven and earth.
He will not let your foot be moved,
He who keeps you will not slumber.
Behold, He who keeps Israel
will neither slumber nor sleep.
The LORD is your keeper;
the LORD is your shade on your right hand.
The sun shall not smite you by day,
nor the moon by night.
The LORD will keep you from all evil;
He will keep your life.
The LORD will keep
your going out
and your coming in
from this time forth
and for evermore.
Psalm 121
May we go forth abiding in the LORD.
wasting not our focus or strength
on phantoms of fear and anxiety,
but instead,
living impossible lives
thick with His grace
and dripping with redemption.